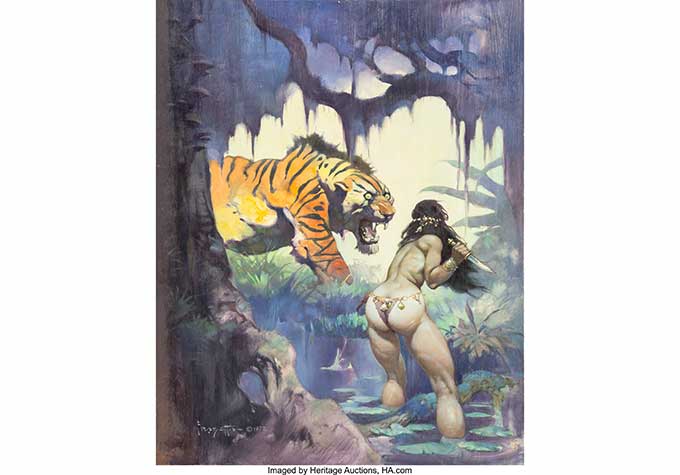 Heritage Auctions announced the sale of Frank Frazetta's Escape on Venus for $660,000.

blockquote>
The price realized by Escape on Venus was the third-highest ever through Heritage Auctions for a Frazetta painting. Death Dealer 6 Painting Original Art (1990) brought a record $1,792,500 in May 2018, and Frank Frazetta At The Earth's Core Paperback Cover Painting Original Art (1974), sold for $1,075,500 in August 2016.


Used as the cover image for the 1974 re-issue of the Edgar Rice Burroughs novel of the same name, Escape on Venus was created in 1972 and released as a print later in the decade.


"Frazetta was very proud of the work. Ever innovating, he worked to differentiate every piece in a unique way. While always conscious of his audience, he incessantly challenged himself. During this period, he expanded his palette with vivid hues, and boasted that he could make those colors work in a believable, sensuous way. No one can argue that he did not achieve his goal!


Frazetta has a legion of fans, and a major reason is that he crossed over into several categories, each with its own exuberant fan base. They can be distinguished as the 4Bs -- Babes, Burroughs, Barbarians, and Beasts. When a Frazetta image contains more than one element, the demand rises exponentially. This painting certainly covers three of the four.


Frank often liked to discuss (or hear) what made his images so popular, not just after the fact, but also at the time of publication. It is well known how his covers would immediately stimulate the sale of a publication. Many would buy his covers without any interest in the actual book. His effect was so massive, that he was asked to create images before a publisher even lined up a writer for a still-to-be-written story to accompany the art! This is important as it breaks the barrier of 'illustrator' versus 'artist' -- a critical distinction. Frazetta created several key works for himself, without guidance or assignment, including the Death Dealer, probably his best-known painting. Publishers such as Jim Warren, realizing his images invariably boosted sales, bought the rights to his works and had stories written for them.


Obviously his vivacious women and his unbridled imagination were tantamount. His secret was to focus the viewer's attention on what he wanted them to see. He would accomplish this by keeping other areas of the painting vague, simply suggesting, not fully rendering. His focal point was supremely detailed. In this prime example, the woman and beast are totally rendered, tense yet natural. Some felt his paintings only showed strong men. He would vigorously argue otherwise; that his women were strong and in control.


Always a favorite of both the artist and his fans, this painting, at the time it was first sold, was considered to be one of, if not the finest Frazetta oil in private hands. -- Joe and Nadia Mannarino






Image courtesy Heritage Auctions