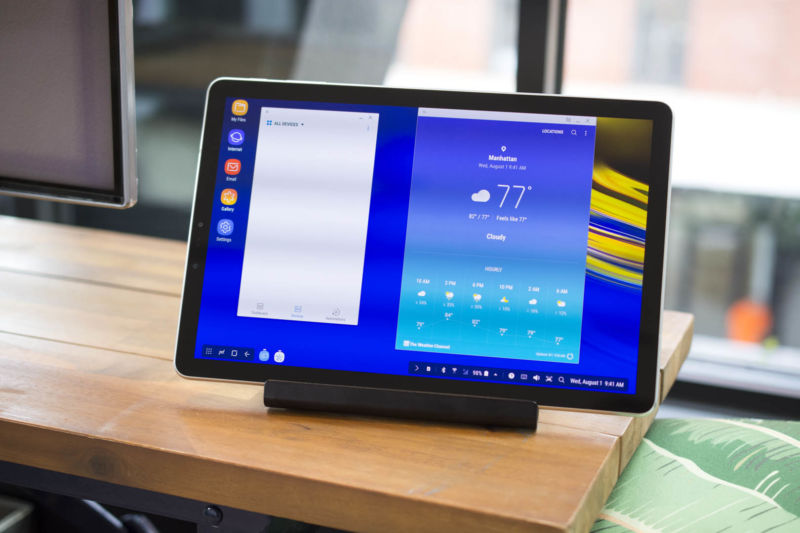 OEMs are trying to make tablets that can replace your laptop, but most of us know that tablets can't really do such a thing for power users. However, these new devices try to balance portability and power, giving users a device that's easier to take along yet can also get things done like a traditional PC. Samsung's latest attempt at this type of device is the Galaxy Tab S4, the successor to last year's flagship Android tablet. And this time around, the Tab S4 boasts Samsung's desktop-mode software called Dex.
Samsung hopes that including Dex will encourage users to go all-in with Android as both their mobile and desktop operating system—at least when they're on the go. But Android isn't a desktop OS, and, while Samsung bills the Tab S4 as a multitasking powerhouse akin to an iPad Pro or a Surface device, it doesn't exactly perform as such. Dex, while useful in some respects, leaves a lot to be desired. Starting at $649, the Tab S4's mixed bag of software and hardware capabilities proves that Samsung may want to embrace Chrome OS in tablet form sooner rather than later.
Look and feel



Specs at a glance: Samsung Galaxy Tab S4 (Wi-Fi only model)




Screen


10.5-inch 2560×1600 Super AMOLED




OS


Android 8.1




CPU


Octa-core Snapdragon 835 (2.35GHz + 1.9GHz)




RAM


4GB




Storage


64GB, expandable up to 400GB with microSD card




Networking


Wi-Fi 802.11 a/b/g/n/ac, MIMO, Wi-Fi Direct, Bluetooth 5.0




Ports


One USB Type-C port, microSD card reader




Cameras


Rear: 13MP AF, Front: 8MP flash




Size


9.8×6.5×0.28 inches (249.3×164.3×7.1mm)




Weight


1.1 pounds (482g)




Battery


7,300mAh




Starting price


$649




Other perks


4K video recording (3840×2160) @ 30fps, included S Pen, Dex technology built in



Samsung Galaxy Tab S4
Buy
From purely a design point of view, the Tab S4 improves upon last year's Tab S3 nicely. Its dimensions are close to that of the previous tablet even though it doesn't have the visible or tangible heft of a 10-inch tablet. Samsung minimized the bezels and removed the home button to make more space for the 10.5-inch Super AMOLED, HDR-ready display, giving you more screen real estate in a package that's fairly close to the 9.7-inch frame of the Tab S3. Even with its slimmer bezels, the tablet is easy to hold with one or both hands, and it feels sturdy. Like the Tab S3, this new tablet has a Gorilla Glass back and metal edges that give it a premium feel worthy of its high price tag. Our review unit had a white back, which didn't hold on to many fingerprints (and even if it did, its light color hid them well).