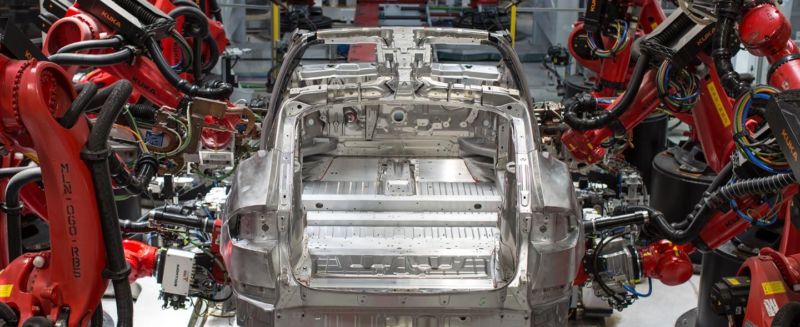 On Tuesday, Tesla announced that it had purchased an automation and machining company called Perbix. Perbix has supplied Tesla with parts for its high-tech factories in Fremont, California, and Sparks, Nevada, for the past three years, according to CNBC. Although it's unclear how much Tesla paid for Perbix, the company says it made an offer of cash and stock, and SEC filings show that Perbix owner James S. Dudley received 34,772 shares of Tesla stock, which reflects about $10.6 million at today's share price of $305.59.
The purchase comes exactly a year after Tesla acquired German firm Grohmann Engineering, which then became Tesla Advanced Automation Germany. The Germany-based engineering department specializes in factory automation, much like Perbix does. Tesla CEO Elon Musk has stressed high-level automation as critical in boosting Tesla's delivery numbers. Tesla struggled for years to make delivery quotas on the Model S and the Model X vehicles, and Musk told investors last year that his solution was to make each of his factories look like an "alien dreadnought." An oft-repasted phrase from Tesla executives is that the company is focusing on factory automation to build "the machine that makes the machine."
Although Tesla is largely making its quotas now with respect to the Models S and X, the electric vehicle maker had a very disappointing third quarter with respect to the Model 3. The "budget" vehicle aimed to bring long-range EVs to the market for a mere $35,000 by mid-2017. But after a debut event at the end of Q2, the company admitted it had only built 266 Teslas in Q3, claiming that bottlenecks in battery-pack construction were hindering its ability to churn out the pre-ordered cars.